The smarter E Podcast Episode 110 | October 06, 2022 | Language: German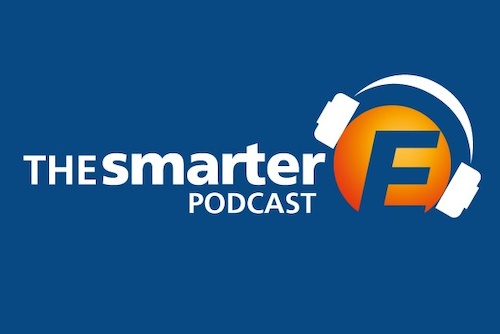 Virtual power plants are an essential part of the energy transition. They combine the growing number of decentralized PV and wind power plants, but also increasingly consumers and battery storage. Many people are probably not aware of the sheer scale of these plants: As the operator of one of the largest Virtual Power Plants in Europe, Next Kraftwerke reached the amount of 10,000 MW of aggregated power in April this year, which is as much as 7 average nuclear power plants. What role do virtual power plants play in the electricity market? Which functions do they perform in the context of the energy transition today and in the future? And will we all be part of a virtual power plant at some point? We talk about this with Aleksandra Radwanska and Leonard Hirsch from Next Kraftwerke.
About The smarter E Podcast
The smarter E podcast is all about the current trends and developments in a renewable, decentralized and digital energy industry. Our moderators Tobias Bücklein and Zackes Brustik welcome and interview personalities who shape our industry and drive developments forward. A new episode is published every Thursday.
Click on the logo to listen to the podcast on the platform of your choice.
About Aleksandra Radwanska, Leonard Hirsch & Next Kraftwerke
Aleksandra Radwanska is International Business Development Manager in the business unit VPP Solutions & Services at Next Kraftwerke. Before joining Next Kraftwerke, she worked at InnoEnergy as well as at General Electric.
Leonard Hirsch is Team Lead in the business unit VPP Solutions & Services at Next Kraftwerke. He is responsible for the Software-as-a-Service solution NEMOCS, which enables external customers to build their own VPP by aggregating distributed energy resources.
Next Kraftwerke, is an energy trader and balancing energy provider from Cologne, Germany. They operate one of the largest virtual power plants in Europe. In its VPP, more than 14,000 decentralized power generators,consumers and storage units are aggregated via the control system developed in-house. With a networked generation capacity of more than 10,000 megawatts, Next Kraftwerke helps balance frequency fluctuations in the grid. In addition, the Cologne-based company, which has been part of the Shell Group since 2021, optimizes the electricity production and consumption of the networked customers on the basis of price signals and trades their electricity on various European exchanges (e.g. EPEX and EEX) via its own 24/7 electricity trading.
Content Partner