The smarter E Podcast Episode 124 | February 02, 2023 | Language: German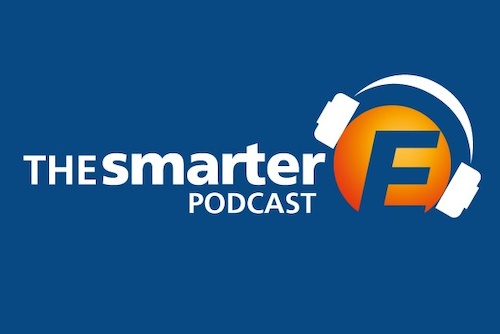 What would it be like if the electric car parked in front of your home could supply your own home with electricity? With the current battery capacities of e-cars, a single-family home, for example, could be supplied with electricity for several days. Sounds impossible? It is not! So-called Vehicle2Home (V2H) is probably the most exciting use case for bidirectional charging in the next two years – even ahead of Vehicle2Grid (V2G). But how far along are we in development? What are the advantages and disadvantages of this process? And is what is possible even permitted? Timo Kern, Head of Energy System and Markets at the Research Center for Energy Economics (FfE) in Munich, tells us.
Timeline:
2.44: Where are we with Vehicle2Home (V2H) and when can we specifically expect a market ramp-up here?
8.28: Are there already enough vehicles and wallboxes that are ready for V2H and can use the function?
14.50: What about the cost of bidirectional charging from a stakeholder perspective when we look at the overall economics?
19.43: What incentives does Vehicle2Home offer to consumers?
About The smarter E Podcast
The smarter E podcast is all about the current trends and developments in a renewable, decentralized and digital energy industry. Our moderators Tobias Bücklein and Zackes Brustik welcome and interview personalities who shape our industry and drive developments forward. A new episode is published every Thursday.
Click on the logo to listen to the podcast on the platform of your choice.
About Timo Kern & the FfE
The Forschungsstelle für Energiewirtschaft (FfE) deals with energy technology and energy industry topics and issues on a scientific basis. The FfE is a non-profit association with members from the energy sector, industry, science and administration as well as private members based in Munich.
Timo Kern started working as a research assistant at FfE in 2016 after studying electrical engineering at RWTH Aachen University. In 2022, he submitted his dissertation on the added value of bidirectional electric vehicles from an actor and system perspective and subsequently took over as head of the Energy System and Markets topic area at FfE.
Content Partner