Industry News –Friday, November 06, 2020
Dutch energy producer and supplier PZEM has chosen Alfen for the supply of an energy storage system in combination with grid integration and a charging plaza for electric vehicles at its office in the Middelburg municipality. Alfen will provide PZEM with products from all 3 of its business units: Smart Grid Solutions, Energy Storage Solutions and Alfen Charging Equipment.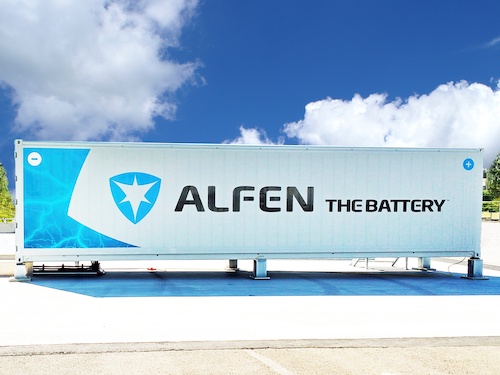 While the charging plaza with its 10 smart Alfen Eve Double charge points has already been installed, TheBattery, Alfen's storage system, will be installed in the first quarter of 2021. TheBattery has a capacity of over 1MW. When energy supply is low, the storage system feeds energy back, balancing out possible highs and lows on the grid.
The charging plaza can charge 20 electric vehicles at the same time. Further, dynamic load balancing has been integrated due to the limits of the local grid connection and to ensure a quick and safe charging process regardless of capacity.
Niels Unger, COO PZEM said: "We are very happy to have Alfen as our partner in this project. We chose Alfen for its comprehensive expertise of the energy grid and its innovative flexible solutions that enable the energy transition. There is an increasing disparity in the electricity supply and demand. The need for flexibility to balance out the energy market and the grid infrastructure will increase, and price fluctuations will become more extreme. This is an increasing risk for both supply and demand. PZEM responds to this by , among other things, choosing smart flexible solutions. A concrete example is the purchase of this mega battery of Alfen for the storage of electricity. By storing electricity, we balance out the energy supply and demand and directly help to limit significant infrastructural investments in the electricity grid. This aligns well with the strategy of PZEM".
Stephanie Schockaert, Sales Manager Energy Storage at Alfen adds: "We are excited to realise this project together with PZEM, where all of Alfen's Business Units are combined. We believe that if we consume and produce more and more electricity from renewable sources, the energy challenge will become increasingly complex and our integrated solutions will offer a solution. PZEM is a leader in innovative energy projects. Together we build the energy grid of the future."

Source & Image: Alfen | alfen.com
The ees International Magazine is specialized on the future-oriented market of electrical energy storage systems, not only from a technological-, but also a financial and application-oriented point-of-view. In cooperation with ees Global, the ees International Magazine informs the energy industry about current progress and the latest market innovations.