It's important to us to ensure that our events are sustainable, helping prepare our world to meet the challenges of tomorrow. One key issue when it comes to sustainability is energy supply. Our vision is a renewable, decentralized, digital, continuously available energy supply. We have been working passionately and tirelessly toward this goal for over 30 years now.
The smarter E, the platform for the new energy world, offers a global showcase for innovations. It opens up markets and encourages knowledge-sharing and networking. To ensure that the event itself is sustainable, we examine every aspect from booth construction and carpeting to mobility and catering. We are gradually implementing measures to make all of these areas more environmentally friendly.
Exhibition Grounds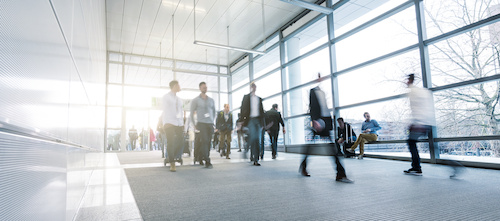 The smarter E Europe is held at the Exhibition Center Messe München. Some of the center's sustainable solutions can be found here:
Photovoltaic installations on the roofs of the exhibition halls
Plenty of charging stations for electric vehicles
Cogeneration plant powered by natural gas
Some district heating from geothermal energy
Natural ecosystem on parts of the hall roofs
Signage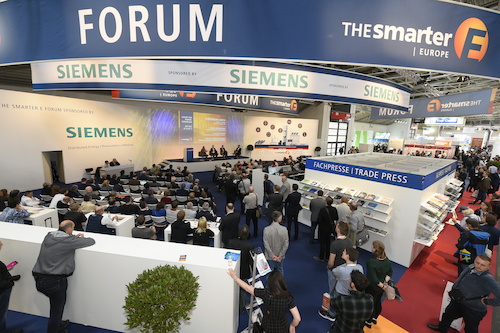 It's not possible for us to go entirely without signage. After all, we want to make your exhibition visit as straightforward as possible. But we use sustainable (recyclable) material wherever this can be done. And we make sure that as much of the signage as possible is stored to be reused the following year.
Giveaways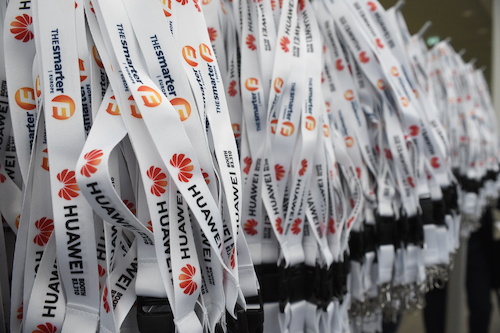 With 65,000 people in attendance, the visitor lanyards alone make for a huge quantity of giveaways. Despite the additional cost, we have decided to switch over to a recyclable material for the lanyards, as another contribution to a more sustainable future. We also make sure that our other giveaways are long-lasting and genuinely useful.
Printed Materials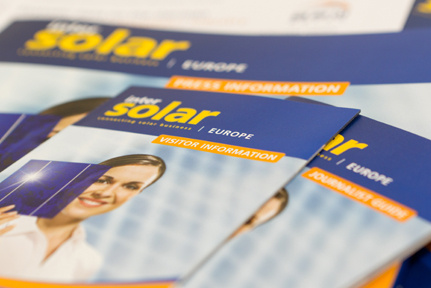 All of our marketing materials are assessed for sustainability. We carefully consider which materials still need to be printed at all. For example, we have now entirely replaced our Event Directory with online information. For the printed materials that are still necessary, we offset the amount of CO2 produced during printing. Since 2022 our badges are made of recycled paper.
Carpets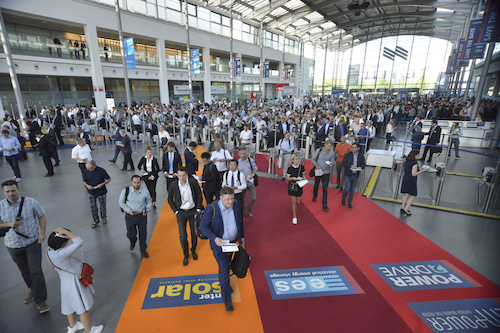 Each year, we meticulously review how much carpet is really needed and where we can do without it for the sake of the environment. Since 2021 we have no carpeting in the entrances as well as in the corridors of the halls, which reduces the total amount needed by 4 percent. We are currently investigating a more sustainable type of carpet which can be produced with less water and lower emissions of CO2 and other gases than conventional exhibition carpets.
Catering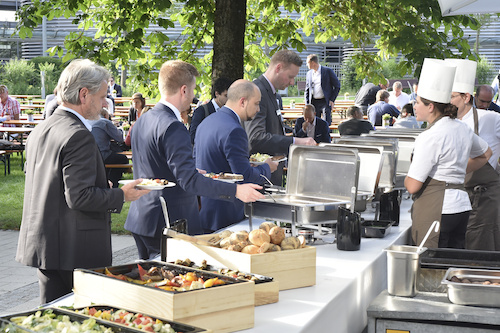 We strive to ensure a mindful approach to the purchasing and packaging of food and drink. Catering businesses must comply with the following requirements:
Preferential use of local products – minimizing supply chains and supporting area businesses
Avoidance of plastic
Use of reusable dishes or biodegradable containers
Booth Construction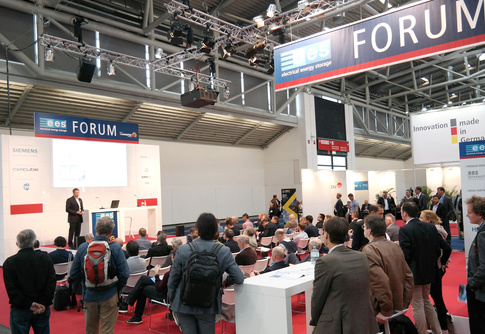 We want to prioritize reusable materials and avoid waste. In the future, we will work to ensure sustainable booth construction for our own booths, with wooden parts and reusable modules. The entire Start-up Area including Business Speed Dating and the presentation area will be sustainably constructed starting in 2021.
Tips for Exhibitors and Visitors
The above measures reflect the broad spectrum of opportunities for us as the event organizers to actively promote sustainability. But, of course, we also want to help exhibitors and visitors do their part as they plan their participation in the event:
Exhibitors can book a sustainable booth system (using wooden parts)
The rail company Deutsche Bahn offers an event ticket (to reduce the use of private transportation)
The exhibition center is easily accessible with good public transportation connections (also promoting environmentally friendly travel)
Our Future Goals
Ongoing: Reduce or completely eliminate printed items or replace them with digital alternatives
Giveaways: Ensure genuine usefulness, sustainable production and short supply chains
Booth construction: Continue working closely with our service providers to review and implement sustainable options

All of this is a work in progress. There are sure to be other areas with room for improvement. But we are determined to keep moving forward with our efforts to make our events more sustainable. Do you have any suggestions? We would be delighted to hear them.