The smarter E Podcast Episode 92 | May 19, 2022 | Language: English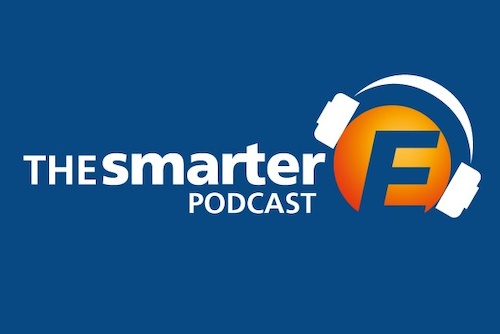 A tremendous increase in electric vehicles is expected in the next few years, which will have an impact on the power grid. By the end of the decade, 65 million EVs are expected to drive on Europe's roads, up from less than 5 million today. How will the spread of electromobility change the demand for electricity? What consequences will this have for the stability of the electricity grids? Can smart managed charging itself perhaps even contribute to a reliable power supply with renewable energies?
We talk about these questions with Bruce Douglas. He is Director Business Development & Communications at Eurelectric, the federation of the European electricity industry.
Timeline
03.00: How will EV penetration develop and how will this impact the electricity grid by 2030?
10.40: What's the upside of Vehicle2Grid to stabilize the grid?
17.35: How can consumers be motivated and brought on board?
24.28: What about IT security? Could charging columns become a target for cyberattacks?
About The smarter E Podcast
The smarter E podcast is all about the current trends and developments in a renewable, decentralized and digital energy industry. Our moderators Tobias Bücklein and Zackes Brustik welcome and interview personalities who shape our industry and drive developments forward. A new episode is published every Thursday.
Click on the logo to listen to the podcast on the platform of your choice.
About Bruce Douglas and Eurelectric:
Bruce Douglas has 25 years international experience in the promotion of renewable energy and electrification. He is currently Director of Communications and Business at Eurelectric based in Brussels, representing over 3000 companies active in the European power sector. Previously he has held the following positions: Deputy CEO of SolarPower Europe, Coordinator of the RE-Source Platform - the European alliance for corporate sourcing of renewable energy, founding Chairman of the Global Solar Council (GSC), Chief Operating Officer at WindEurope for 10 years, founding Secretary General of the Global Wind Energy Council (GWEC) and Managing Director of FLiDAR, an offshore wind company.
Eurelectric is the sector association which represents the common interests of the electricity industry at a European level, plus its affiliates and associates on several other continents. Together these organisations employ 970,000 people in the European Union and have a turnover of €627 billion.
Content Partner