The smarter E Podcast Episode 50 | May 27. 2021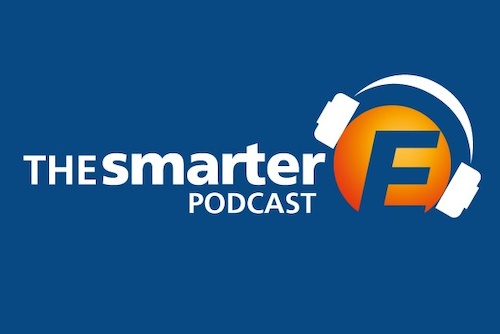 Germany started early with the recycling of lithium-ion batteries. Companies and scientific institutions started intensive research and development work more than ten years ago. Today, appropriate industrial processes have already been implemented. This is an important step, because recycling is highly relevant - both for environmental reasons and in view of the increasing number of new registrations of electric vehicles, whose core components are lithium-ion batteries. But there is still potential for innovations and optimizations. What do these look like? Is battery recycling becoming a problem - or rather a new boom industry?
Prof. Dr. Achim Kampker, Chair of the Production Engineering of E-Mobility (PEM) at RWTH Aachen University, tells us.
Timeline:
0:53: Where do we currently stand on lithium-ion battery recycling?
3:41: Does battery recycling make economic sense?
7:39: About the different recycling methods.
11:02: What's in store for us? What is currently being researched in the field of recycling?
About The smarter E Podcast
The smarter E podcast is all about the current trends and developments in a renewable, decentralized and digital energy industry. Our moderators Tobias Bücklein and Zackes Brustik welcome and interview personalities who shape our industry and drive developments forward. A new episode is published every Thursday.
Click on the logo to listen to the podcast on the platform of your choice.
About Prof. Dr. Achim Kampker and RWTH
The Production Engineering of E-Mobility Components (PEM) chair at RWTH Aachen University researches the overall process of battery cell production, fuel cell and electric motor with a focus on challenges in the processes and their interfaces. In the Battery Components & Recycling group, the various components of the lithium-ion battery are further developed. This is done in a practical manner using the affiliated battery cell production facilities for test cells and large-format pouch cells. In various industrial and research projects, questions concerning the production and design of materials and other components are considered.
Prof. Dr.-Ing. Achim Kampker has been a university professor at the Faculty of Mechanical Engineering at RWTH Aachen University since April 2009. From 2009 to 2013, he headed the Chair of Production Management at the Machine Tool Laboratory (WZL). In January 2014, he established the new Chair of Production Engineering of E-Mobility Components, PEM.
This Podcast Episode is Supported by