Press Release – Thursday, June 4, 2020
Pforzheim, June 4, 2020: The finalists for The smarter E AWARD 2020 have presented innovative business models and pioneering projects for a sustainable energy industry. Projects completed in the areas of solar, storage, e-mobility and energy management take center stage in the Outstanding Projects category. The Smart Renewable Energy category celebrates sector coupling solutions as well as smart management tools for solar installations in combination with other systems that produce and consume energy. The winners of The smarter E AWARD will be honored on a virtual stage on June 30, 2020.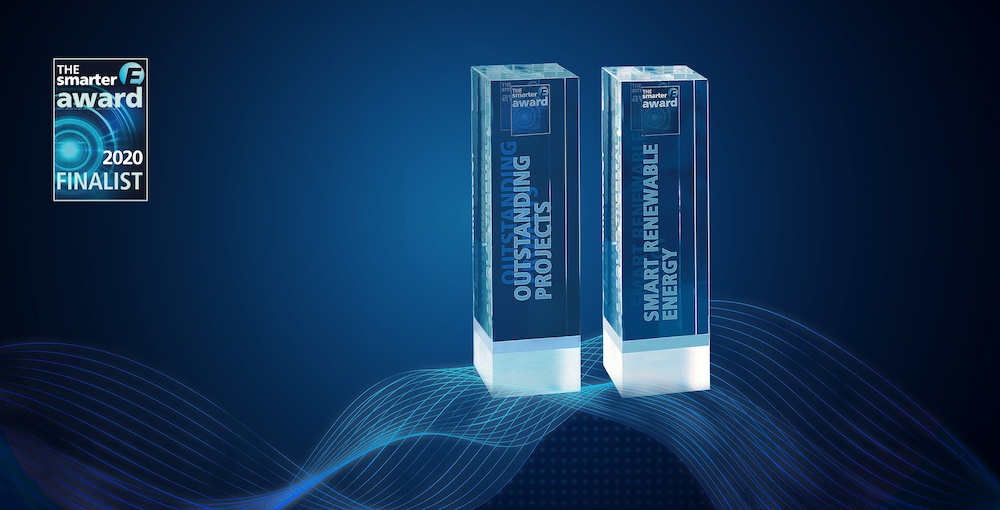 Although The smarter E Europe 2020 has been canceled and The smarter E South America 2020 postponed due to COVID-19, we still want to take the time to recognize companies and project owners for their pioneering solutions with the most important innovation prize in the energy industry, The smarter E AWARD. This year, the award ceremony will be held online on June 30 – along with the ceremonies for the Intersolar and ees AWARD.
Finalists in the Outstanding Projects category
The finalists in the Outstanding Projects category have completed exciting projects all over the world, demonstrating that renewables, energy storage systems and e-mobility are gaining ground internationally and becoming key technologies for the new energy world.
Alpha ESS Europe GmbH (Germany): The Myanmar Rural Electrification Project is part of a larger World Bank program, which has set the goal of supplying electricity to 7.2 million homes in Myanmar by 2030 by expanding grids and building microgrids for decentralized rural electrification. The first step of this project involved connecting nine villages to the power supply. Alpha ESS set up systems at 13 locations offering a total PV capacity of 1 MW and storage capacity of 5 MWh. The thermal management of the batteries, which are installed in containers, constitutes one of the project's key technologies. It is based on a modular standard design that can be adapted to the needs of other locations.

C2 Energy Capital (USA): Thomas Edison High School, a public school in the US city of Minneapolis, has increased its available budget by installing a 480 kWp PV system on its roof and carport. The PV system also represents a real-life energy transition lab – it is not just another roof component, but an essential element of the school building that helps teach students more about renewable energy. The Edison Solar Project also includes a "sustainability plaza" with a solar panel canopy and electric vehicle charging stations.

Phaesun GmbH (Germany): A special desalination and purification plant for brackish water has been installed in the Somali desert as part of the EU development and innovation project RevivED water. The solar-powered system uses electrodialysis to supply the village of Beyo Gulan's 300 inhabitants and nomads with clean drinking water, replacing a salt spring whose water was highly saline and polluted, making it unsafe for consumption. Now, the villagers have a reliable source of clean drinking water. Local experts are trained to perform the little maintenance necessary. The same model is also set to be deployed in Djibouti, Tanzania and India.

Reuniwatt SAS (France): The Springbok Solar Cluster, a 443 MWp PV power plant outfitted with a 1.5 MWh lithium-ion battery, uses control algorithms based on exact short-term and long-term forecasting to supply Los Angeles with "ready-to-go" power. Forecasts are made by observing the skies using infrared technology, allowing weather conditions to be predicted quickly and accurately. They are also used to ensure uniform power output, assisting the energy storage system in balancing out the variability of solar power generation. The forecasts must be as accurate as possible so that renewable energies can be even better integrated into the design of the electricity market in the future.

SENEC GmbH (Germany): The Onslow Renewable Energy Pilot is a vast microgrid in Australia designed to improve the performance of the existing electricity supply system and ultimately provide communities with affordable and sustainable electricity. The region's electricity demand is very high. Currently, this means diesel generators must often be used. But it will allow the new microgrid – with a 1 MWp PV installation, a gas-fired power plant and a 1 MWh battery storage system – to pay for itself within less than three years' time. The new electricity infrastructure offers suppliers a high, sustainable return on investment and provides purchasers with green energy at an affordable and reliable price.

SMA Solar Technology AG (Germany): A storage system with a capacity of 15 MWh has been installed in Bordesholm in Germany, supplying power independently of the public grid. Recognized as a milestone in the energy transition, the 10 MW system is first and foremost designed to act as a primary operating reserve and supply electricity for direct marketing. It will also secure the entire power supply if the mains grid fails. In a trial during the system's launch, consumers were disconnected from the public grid and supplied only with renewable power. The transition ran smoothly and was not noticeable for the consumers. The system ensures high supply security and is black start capable, meaning it can quickly be brought back into operation after going offline.

Solar Chernobyl LLC (Ukraine): Solar Chernobyl is a 1 MW solar power plant laden with symbolism. Located just 100 meters away from the No. 4 nuclear reactor in the Chernobyl Nuclear Power Plant, which exploded in 1986, it is the first PV installation built in an area contaminated by radiation. The energy transition has arrived at the site of the catastrophe which ushered in the beginning of the end for nuclear power. The plant embodies the transformation of our energy supply in more than just symbolic terms. The project's creator, the Ukrainian-German consortium Rodina-Enerparc, conceived it as a sustainable and environmentally friendly way to promote the economic development of Chernobyl's restricted zone.

SunPower Corporation (USA): The non-profit organization Water Mission seeks to supply the remotest corners of the earth with clean water. Since the people living in these areas seldom have access to fuels or grid-supplied electricity, solar-powered water pumps are used. The project in Tanzania's Nyarugusu refugee camp, whose 132,000 inhabitants have been settled there for many years, shines a light on the necessity of such initiatives. The camp now draws water from six different sources and purifies it using a solar-powered treatment system. According to Water Mission, Nyarugusu is home to the world's largest solar-powered water processing plant.

SunPower Corporation (USA): Norway's Powerhouse Brattørkaia is the northernmost building of its kind in the world. Not only is it visually appealing thanks to the clever integration of PV technology into its architecture, it is extremely efficient. The building produces more electrical energy than it consumes, feeding the surplus to neighboring buildings, e-buses, cars and the nearby port's ferry system via a microgrid. Although the building only sees a maximum of four hours of sunlight in winter, its large integrated solar power system produces a surplus of energy throughout the year. Powerhouse Brattørkaia is a perfect example of building-integrated PV and an architectural masterpiece specially designed for optimal solar yield.

Xuan Cau Holdings/B. Grimm Power Public Company (Thailand): In the Dau Tieng Solar Power Project, a PV system on raised stilts was installed next to Dau Tieng Lake in Vietnam. The 500 MWp facility, including a substation, is suspended above a 550-hectare plain which experiences frequent flooding. Designed to withstand the highest foreseeable flood level within the next 100 years, the system exploits an otherwise inaccessible area to generate solar power. Piles of six different lengths and varieties were used in the installation to account for the site's topography and geology, and engineers had to take into account the water level to determine the velocity with which the piles should be driven into the ground. Because of the variability of the water level, some components were installed from land and others using ships.
Finalists in the Smart Renewable Energy category
The products and solutions presented by the finalists in the Smart Renewable Energy category include sector coupling solutions for optimizing the use of PV in the heating and mobility transition. Others focus on smart management tools for solar installations in combination with other systems that produce and consume energy, with a particular emphasis on grid-stabilizing management. Some systems even offer grid services. Modern PV installations are increasingly much more than just local standalone solutions, taking on a growing range of functions as central elements of the power grid.
Bachmann electronic GmbH (Austria): With its Smart Power Plant Controller, Bachmann electronic has developed an integrated approach to managing energy generation parks including both hardware and software. The complete system has been certified and thus offers park controllers the legal security they are looking for. This solution is supported by a standardized data interface and a sophisticated authorization concept. The Smart Power Plant Controller is designed for hybrid farms with total connected load ratings of 135 kW or greater which are subject to particular regulatory requirements.

Fronius International GmbH (Austria): The Fronius Solhub is a turnkey solution for producing, storing and using green hydrogen all on the consumer's premises. The hydrogen can be used to power fuel cell vehicles and a stationary fuel cell can be used to generate more electricity as necessary. The heat generated from producing and reconverting energy can also be used directly on-site.

greentec development GmbH (Austria): greentec development has worked together with research institutions to create the software solution raicoon, which it describes as the world's first autonomous operations center for renewable energy systems. The software uses artificial intelligence and machine learning to enable the decentralized and autonomous operation of power generation systems. Compared to conventional monitoring tools, raicoon does not focus on visualization and monitoring, but uses data and real-life events to make (partially) automated system management decisions.

Maschinenfabrik Reinhausen GmbH (Germany): The GRIDCON® HPC 150 is a new solution for efficiently coupling the transportation and energy sectors while relieving the distribution system. In technical terms, it is a bidirectional high-power charging station with an AC/DC rectifier and a DC/DC converter with galvanic isolation. An additional DC connection for a PV installation or batteries is the centerpiece of the apparatus. The GRIDCON® HPC 150 forms a node which enables energy to be transferred directly between multiple direct current devices independently of the distribution grid, reducing the number of conversion processes and thus the amount of energy lost.

Next Kraftwerke GmbH (Germany): NEMOCS is a software as a service (SaaS) solution that enables third parties to operate their own virtual power plant (VPP). NEMOCS can connect thousands of decentralized units to enhance their operation. Data are processed in real time, which improves aspects including power generation forecasting. Moreover, NEMOCS can issue commands to a multitude of connected units as necessary in response to pricing or grid signals.

Quantron AG (Germany): From its headquarters in Augsburg, Quantron helps customers find the solution they need for electrifying commercial vehicles. It specializes in replacing the internal combustion engines of used commercial vehicles with an electric drivetrain with the appropriate battery capacity. The components from the old internal combustion engines are kept to be used for spare parts. With this approach, the company is driving forward the electrification of the commercial vehicle sector and contributing to a transportation transition that makes efficient use of resources, extending instead of shortening component lifetimes.

Shenzhen Growatt New Energy Technology Co., Ltd. (China): Growatt's GroHome line is the latest addition to the inverter manufacturer's portfolio, incorporating a range of smart home components such as smart controls for HVAC systems and water heaters powered by a solar installation. The services offered can be configured via an app to optimize local consumption of the solar energy generated. The GroHome system is modular and can be expanded.

SMA Solar Technology AG (Germany): The SMA Power Plant Manager is a compact, cost-effective and grid-compatible solution for managing and monitoring solar and hybrid power plants. It serves as a central control and data interface for connecting battery storage systems and diesel generators to solar farms or the power grid and offers comprehensive grid services. For instance, it enables voltage and frequency regulation, primary control reserves and black starts as well as resynchronization with the grid subsequent to a wide area synchronous grid outage.

Stadtwerke München GmbH (Germany): With its new M-Solar Sonnenbausteine, or "sun blocks," Munich's municipal utilities are introducing their own local solution for the energy transition. The crowdfunding model allows city residents to purchase a small share in PV installations and ensures real-time, transparent information on energy yields. The M-Solar Sonnenbausteine program is an initiative that lets homeowners and tenants participate in the energy transition even without a rooftop installation of their own. The aim of these investments is to tap the green potential of previously unused spaces.
Further information on the awards can be found at:
www.TheSmarterE-award.com
www.intersolar-award.com
www.ees-award.com
Image source: © Solar Promotion GmbH