Start-up Stories – February 19, 2021
Kraftblock develops efficient high-temperature energy storage systems
A large portion of exhaust heat still goes unused, particularly in industrial settings. The start-up Kraftblock is seeking to put this heat to use with its eponymous heat storage system at temperatures of up to 1,300 °C. In the electricity sector, Kraftblock can temporarily store electrical energy, for instance from wind power installations, as heat and use it to counteract load peaks. In the following start-up interview, founder and CEO Dr. Martin Schichtel introduces this storage system and explains its unique features.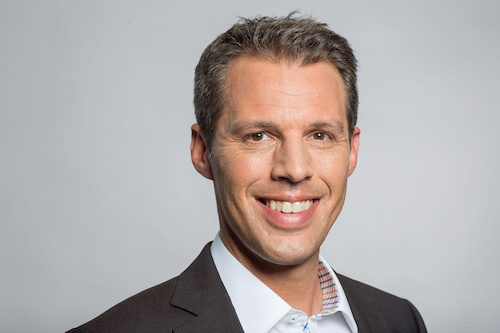 In Germany, more than half of all final energy in industry, around 460 TWh, is used for providing process heat. A large portion thereof goes unused, having been emitted as exhaust heat. Your Kraftblock can make use of this heat energy. What exactly does the storage system do?
Kraftblock is a high-temperature storage system that was designed for decarbonizing such sectors as the steel, glass, ceramics and petrochemical industries. Renewable energies can thus be used to generate industrial process heat 24/7. By combining modular storage systems with extraordinary characteristics such as high capacities, short charging times and cycling stability, we represent a key link in the energy transition.
How is the storage system charged and discharged?
We have developed the storage system using a so-called open-system approach, meaning that the core system can be charged and discharged using various heat transfer media, such as hot gases, thermal oil, molten salts and more. Separate charging and discharging modules enable controlled transfer from one heat carrying medium to another.
We developed the material used for high-temperature storage ourselves. Our goal was not only to improve capacity and performance, but also to increase sustainability. Up to 85% of what is used are recycled materials such as iron slag. These are intelligently combined with other materials to form a highly mechanically and thermally tolerant material system. The fundamental properties of highly sensitive storage materials – capacity and conductivity – are streamlined to obtain higher performance. Material-specific parameters and the internal storage design are important, but the perfectly harmonized insulation system also plays a key role in preventing heat loss.
Is there a minimum temperature that industrial exhaust heat should be at for the Kraftblock to prove useful?
Theoretically, the minimum temperature would be room temperature. However, we have found decent alternatives for temperatures up to approximately 400 °C. The Kraftblock really comes into play starting at temperatures around 350 or 400 °C and is used for temperatures of up to 1,300 °C. The material parameters are particularly well-suited to our needs at temperatures above 600 °C.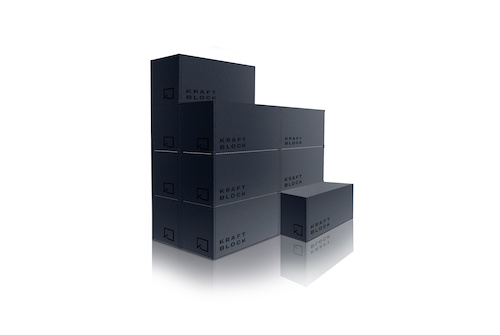 ©Kraftblock
The Kraftblock is scalable and modular. Which storage system sizes and capacities are available?
Our standard units are 10-foot and 20-foot containers. Individual containers can be used as mobile storage units, or they can be interconnected to form large-scale stationary systems. The capacities range from 3 MWh to 8 MWh in the 10-foot system and from 7 MWh to 16 MWh in the 20-foot system.
We have already discussed your storage system's suitability for storing industrial exhaust heat, but we have not yet touched on its ability to store electrical energy in the form of heat. Which field of use is more crucial?
Our primary goal is to take "classic" measures toward decarbonization. We offer companies the support they need to take already generated energy, which would normally be emitted via smokestacks into the atmosphere, and reuse it, thus minimizing the need for primary energy and reducing carbon emissions. More and more, people are seeking to make use of renewable energies – especially by turning to power-to-heat solutions. Our system enables customers to make the switch from conventional supply to "green" or "renewable" heat while retaining a large portion of their existing equipment.
What specific assistance does the Kraftblock offer in the electricity sector and what are the advantages and disadvantages in comparison to typical battery storage systems?
Just like other heat storage devices, Kraftblocks are viewed in various scenarios as so-called capacity storage systems. This involves hundreds of megawatt hours of storage, or even gigawatt hours in the double-digit range. The price of a heat storage system – particularly for larger storage volumes such as these – is unbeatable. Another advantage of this configuration is that any charging and discharging capacities are possible. This means, for example, that you can store energy at 100 MW and withdraw it again at 30 MW. Both of these points represent capabilities that you just do not see in conventional battery storage systems. The heat storage system's main weakness has to do with reconverting energy into electricity, since this is dependent on customary steam turbines or combined gas and steam turbine systems, which are relatively expensive and quite inefficient. However, it does become economical if the heat can be decoupled for use in the heating grid. This gets particularly interesting when existing power plants are converted into storage power plants.
I think that in the low-capacity sector, say between 20 and 30 MWh, lithium systems will take the lead. In the higher-capacity sector, in particular with flexible storage and withdrawal, heat storage systems will join the competition once efficient electricity conversion aggregates enter the market or the trend of retrofitting power plants to storage systems is expedited.
Kraftblocks can also be used in mobile applications. Where does this prove most useful?
We are currently working on localizing the "typical" areas of application. The simplest variation involves tapping into a high-temperature source (> 500 °C) and then constructing a sort of 2-point district heating network with the mobile system. This system supplies customers who do not have a connection to the conventional grid with decarbonized heat for generating hot water and process water. We are currently looking into this option together with our partner STEAG New Energies. Transferring heat from one company to another, or even locally between applications, is another possibility.
How far along are your developments? Are there any projects that you are currently working on?
Version 1.0 of our system has already been tested and is ready for use. Adjustments must be made to the interfaces for charging and discharging, depending on the project at hand. We are already implementing projects in the industries where decarbonization is a top priority. Our first mobile high-temperature storage system was recently delivered to a customer where it is currently in trial operation.
This interview was conducted by Simone Pabst.
For more information, please visit: Kraftblock
Do you want to receive monthly updates on recently published interviews, best practices and industry news? Then sign up for the EM-Power Newsletter!