Insights – Thursday, March 19, 2020
The key to unlocking Africa's renewable energy sector lies in industrial applications like mining. The unique, but demanding use case offers untapped potential for renewable energy and storage solutions.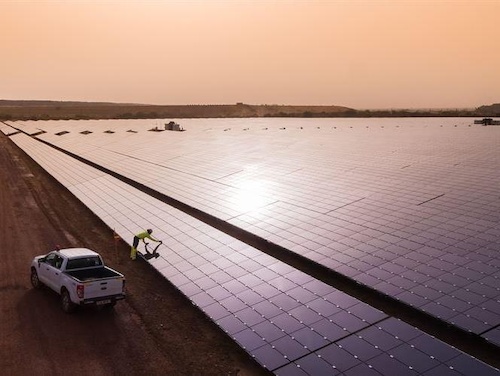 All nations face energy challenges. However, very few have the same concerns as those in Africa. To keep up with a growing population, (which has the highest growth rate among other regions), industrialisation and geographical diversity, countries in Africa need to reassess their energy strategy. The continent's population is expected to double by 2050, and its current reliance on fossil fuel sources like diesel will not be sustainable over time. Setting aside the danger of increased carbon emissions and its impact on the environment, the volatile pricing of crude oil can hamper developing countries.
To meet changing energy demands and address unique challenges, Africa will need to increase its renewable energy penetration. Groups like the International Renewable Energy Agency (IRENA) anticipate that electricity capacity will have to triple by 2050.In response to those pressures, a few African countries have started to introduce renewable energy projects and goals. Key examples include:
But even as the region champions sustainable developments and plans combatting the climate crisis, the continent has only installed small amounts of renewable energy capacity, well below the margin recommended by IRENA. The gap worsens beyond grid applications.
Wärtsilä has years of experience in remote installations like Graciosa, Bonaire and Roatan, and is increasingly focusing on often ignored, valuable applications to help reach new energy demands. The commercial sector in particular includes energy-intensive industries like mining and quarrying. Mineral excavations consume a large amount of energy, representing over 11% of the world's power. Remote mines are best suited for hybrid systems and demonstrate their potential to reduce costs, in addition to carbon emissions. Because of these gains, solutions for sustainable mining operations are steadily gaining the attention of site managers for key reasons—and here is why.
The case for renewable energy at mining locations
Unlike other industrial applications, mining requires a constant energy supply. Machines need to be powered to extract raw materials. The most popular energy source primarily comes in the form of diesel generators. An expensive solution when compared to alternatives, diesel fuel accounts for 72 percent of the energy used in the mining industry. Costs are even steeper when considering the challenge of transporting fuel to mining sites, which are usually located in remote areas in developing countries. According to Deloitte, diesel is often the single largest operating expense for off-grid mines, and unpredictable price changes reduce profits. Additionally, the potential for maintenance and component problems with diesel engines can pose challenges for site managers. In an industry where high operational costs can limit profits, mine operators must incorporate more strategic energy solutions.
And as the price for solar, storage and wind power technology drops, the mining industry, as witnessed in other verticals, can finally adopt flexible renewable technologies. Depending on the use case, engines can be a massive investment for smaller operations. However, the support from plant control systems can make for more efficient operations. Backed by a sophisticated energy management system that is able handle hybrid systems or synchronise multiple energy sources, renewable energy and thermal power generation can complement each other. This approach helps mines benefit with more reliable and stable power generation. Hybrid technologies limit extraction production outages, revenue losses, and above all, optimises energy production while minimising carbon emissions, fuel consumption and maintenance costs. When installed along with renewable energy applications, energy storage systems offer a much higher renewable energy penetration for all use cases featuring thermal engines. Project developers can expect more energy stability and less fuel consumption overall.
The future of mining in Mali and beyond
Wärtsilä recognises that hybrid systems are indeed the future of grid operations in Africa and anticipates similar opportunities moving forward. The ability to monitor and control hybridised assets decreases the dependence on fossil fuel consumption and adds more wind and solar to the generation mix. Prior to the Fekola project, Wärtsilä supplied an engine-solar PV hybrid power plant system for the Essakane gold mine in Burkina Faso. The system's versatility also decreases the environmental impact of operations. The deployment allows for the control and optimisation of renewable energy and thermal engines, reducing its fuel consumption by an estimated 6 million litres per year and its annual CO2 emissions by 18,500 tonnes.
The team at Wärtsilä West Africa has installed over 7400 MW of power across Africa and plans to commission one of the largest storage projects for a remote gold mine in Mali later this year. The installation at Fekola mine, operated by B2Gold, will feature 13.5 MWh of energy storage and 30 MW solar backed by the company's advanced energy management platform, GEMS. GEMS will be used to optimise energy storage and other grid assets. GEMS enables the delivery of stable power by intelligently deploying renewable energy resources and backing up with thermal assets during intermittency.
Currently, the site uses many thermal engines to generate electricity. Once renewable systems are active, operators will be able to reduce engine use. e. Stored energy can be used as backup in the event of transmission issues. In tandem with diesel fuels' reliability, and durability, new technologies can help address any energy shortcomings and challenges. Specifically, for Africa, capable energy storage systems must be designed to handle a wide range of temperatures and environments. Elements of the Fekola project incorporate equipment optimisation features that are defined to cope with different local climates.
Added benefits of energy storage systems– ranging from value stacking to lower operational costs
Not only can energy storage systems improve operations of hybrid deployments, they can also offer new revenue streams for owners. Value stacking and balancing services allow for the monetisation of renewable technologies, and sites backed by services like GEMS, can maximise profits.
Site operators can use energy management systems to bid wind, solar, or storage energy into wholesale markets to sell or provide backup resources for frequency regulation. In the long run, GEMS will enable further renewable penetration and lower the cost of energy through value stacking. With its machine learning and AI capabilities, GEMS can incorporate weather, electricity demand and other variables and data into its forecasting models. This data can inform the automated decisions managing entire fleets of renewables and can dynamically adapt to shifts in market conditions and rate structure.
Lessons learned and the state of energy in Africa
As outlined by Wärtsilä's upcoming deployment in Mali, mining operations can be positioned to take advantage of the economic benefits provided by intelligent, hybrid solutions. Hybrid systems, especially when including energy storage systems, can strengthen the stability of weak grids and mining operations by balancing servicing and power smoothing. This enables higher penetration of increasingly inexpensive intermittent renewable energy assets.
More importantly, hybrid utility-scale energy management systems reduce a reliance on diesel energy and related costs. Lower costs and emissions have great implications for Africa, as the population grows, and local stakeholders aim to improve energy transmission. For site owners, hybrid systems improve bottom-lines, resilience to oil price fluctuations, and above all, make operations more climate-friendly. Wärtsilä maintains that the hybrid market will continue to grow in Africa, even as basic regulations for hybrid projects and relevant remuneration schemes continue to develop.

Authors: Risto Paldanius, Director Business Development, Energy Storage & Optimisation | Christophe Demay, Business Development Manager | Wärtsilä Energy Business
Image: Energy storage system of Fekola mine in Mali will be optimised based on Wärtsilä's GEMS solution to improve the mine's operations, reduce fuel consumption, and lessen the carbon emissions. Wärtsilä has earlier completed similar projects in a gold mine in Burkina Faso.
The ees International Magazine is specialized on the future-oriented market of electrical energy storage systems, not only from a technological-, but also a financial and application-oriented point-of-view. In cooperation with ees Global, the ees International Magazine informs the energy industry about current progress and the latest market innovations.