The smarter E Podcast Episode 95 | 09. Juni 2022 | Language: German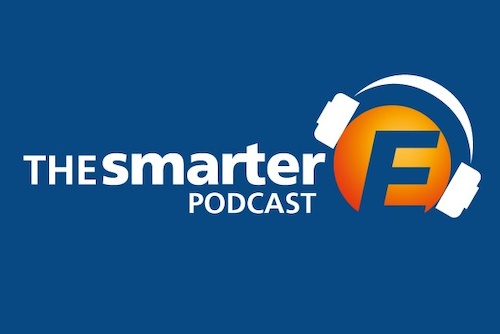 A key element of the energy transition is an integrative approach, with all sectors pulling in the same direction. Given the ubiquity and high energy consumption of transportation - from cars to buses and trucks - electric vehicles are expected to become an integral part of the energy system as a whole. New mobility and energy worlds are intertwining. Novel approaches such as bidirectional charging and V2X could support grid operations and stability. What do new charging technologies look like? Why is AC bidirectionality key to large-scale V2G implementation? And how can innovative charging models support the energy systems of the future? Dennis Schulmeyer, CEO of Lade GmbH, reveals this and more to us.
Timeline
3.28: What do the charging options of the future look like?
5.56: There are many charging options for an electric car. What are actually the biggest advantages and disadvantages?
9.50: Where are the trends going with Vehicle2X?
16.44: What requirements must be met for electricity to be distributed intelligently?
About The smarter E Podcast
The smarter E podcast is all about the current trends and developments in a renewable, decentralized and digital energy industry. Our moderators Tobias Bücklein and Zackes Brustik welcome and interview personalities who shape our industry and drive developments forward. A new episode is published every Thursday.
Click on the logo to listen to the podcast on the platform of your choice.
About Dennis Schulmeyer and Lade:
LADE, a startup based in Mainz, Germany, develops and produces complete solutions for charging e-cars that combine innovative charging electronics, AI-supported cloud software and mobile apps. The system offers significant cost advantages in installation and operation, enables convenient charging and makes particularly efficient use of electricity from renewable energy sources. The offering includes products for operators of charging infrastructure (e.g. parking companies, retail, municipalities, gastronomy, etc.), companies from the energy sector and private individuals.
Dennis Schulmeyer is the founder and CEO of LADE. He founded his first company, an IT systems house, just over 20 years ago. In 2012, he bought his first fully electric vehicle. At his home in Mainz, the trained electrician installed the city's first public charging station at the time and simultaneously developed initial ideas for a fully integrated charging solution. In 2020, he founded LADE to put these ideas into practice. His team of now more than 40 people combines expertise from the fields of electronics, software development and smart IT.
Content Partner