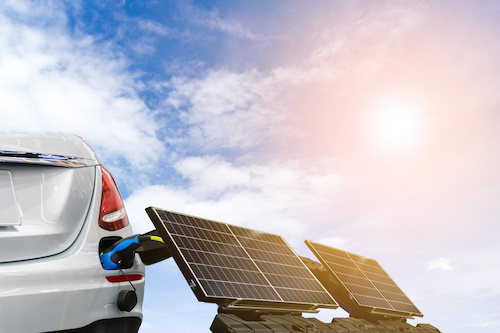 Storage Systems are Becoming Increasingly Important
With the rapidly increasing expansion of photovoltaics, energy storage and flexible consumers are becoming more and more important. This is why the industry of the new energy world is focusing on networking PV storage systems with electric vehicles; whether for charging or integrating the vehicle batteries to stabilize the power grids. This is because battery-powered vehicles can relieve consumption and generation peaks in a decentralized manner, e.g. at home, at the employer's, or in the neighborhood. This also reduces grid expansion costs.
Increasing digitalization and the use of artificial intelligence (AI) play an important role here. This can optimize both system design and plant operation, resulting in greater economic efficiency. It also enables new application possibilities such as energy management or grid services.
New Opportunities for the Electrical Trade
This offers new opportunities for the electrical trade. After all, margins can be significantly increased by combining PV systems, battery storage and the charging of e-cars. In addition, it is no longer just the installation of the hardware that is in demand, but also, among other things, the configuration of the software or services relating to the operation of the cloud. So there is a whole range of opportunities to sustainably expand value creation. However, the need for qualification and information is also growing.
Self-consumption Drives System Size
In any case, demand is rising sharply. More and more home builders are turning to solar power from their own roofs. Every second private PV system is equipped with an electricity storage system. Around 356,000 battery electric cars were registered in Germany in 2021 (+83.3 percent), many of which are charged with self-generated solar power. For the fourth year in a row, the number of home storage systems sold in Germany is increasing by around 50 percent. For 2021, new installations are estimated at around 135,000.
Driven by increased self-consumption, private PV systems are getting bigger and bigger. While in the first nine months of 2020 the average system capacity of up to 20 kW was still 7.9 kW, the average value between January and September 2021 already rose to 8.3 kW. This goes hand in hand with increasing capacities of home storage systems. Within a short time, a mass market for charging stations was able to develop in Germany with over 200 providers.