Expert Interviews – Wednesday, June 17, 2020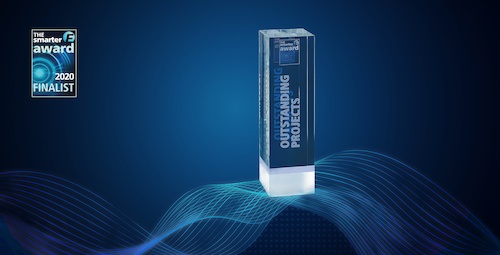 Innovations in the renewable energy industry are driving the modernization of the energy infrastructure worldwide. Every year, The smarter E AWARD honors all companies that already contribute to an intelligent, sustainable and cost-effective energy supply.
On June 4, 2020, this year's The smarter E AWARD Finalists 2020 in the category Outstanding Projects were officially announced. We interviewed them exclusively and asked them about the importance of the finalist nomination, their innovation and the need for future innovation in the renewable energy industry.

Thanks to all nominated companies and interview partners (who took part in the interview):
Alpha ESS Europe GmbH – Mr. Michael Steininger-Yang, Marketing Specialist (Alpha)
Phaesun GmbH – Mr. Florian Martini, Project Manager (Phaesun)
SENEC GmbH – Dr. Stefan Dietrich, PR Manager (SENEC)
SMA Solar Technology AG – Mr. Mohamed Mostafa, Business Development Manager (SMA)
Stadtwerke München (SWM)
SunPower Corporation (on project 1) – Mr. Mike Tonsing, Sr. Director of Brand & Product Marketing (Sunpower)
SunPower Corporation (on project 2) – Mr. Mike Tonsing, Sr. Director of Brand & Product Marketing (Sunpower)
What does the nomination mean for you and your company?

Alpha: This nomination is a great chance to present an exceptional, national project for the large-scale electrification of an entire country. Electricity is the basis for modern prosperity and is mostly taken for granted. It's often forgotten how much regions without electricity are cut off from this wealth. Alpha ESS can also show here the fundamental changes that storage technology is bringing to mankind. We are pleased to generate even more attention for these opportunities by this nomination.
Phaesun: The development of the solar-powered desalination system and the implementation in the village of Beyo Gulan in Somaliland was my personal heart project and I am happy to present it to the public. For Phaesun, the nomination shows that it is worthwhile to follow paths that do not always bring in the big money, but that contribute to sustainable development.
SENEC: We are very proud that the jury acknowledges the importance of this project for the future of energy supply in remote areas around the world. The project can show what enormous role solar energy and battery storage will play in providing clean and affordable energy for large parts of the world where it is most needed. We are happy to be part of that, and that others see the worth of what we are doing.
SMA: We are very pleased and honored to be nominated. It is a professional and objective recognition of the outstanding projects/products we are conducting globally, which motivates us to keep it in the following year by creating innovative solutions for the renewable energy integration.
SWM: SWM is pioneering climate protection. Long before others, we started pushing ahead the production of renewable energy. M-Solar Sonnenbausteine is one component of our very successful strategy. We are happy and honoured that our efforts are well received and that we made it to the finals.
Sunpower Project 1: It's exciting to be nominated for the smarter E AWARD because it brings more exposure to organizations like Water Mission and the innovative work they're doing with SunPower's industry-leading panel technology. The award platform helps to inform our entire industry about the 2.2 billion people around the world who lack access to safe water every day. It's such a fundamental resource that so many of us take for granted. We hope Water Mission's innovation will inspire others to take action.
Sunpower Project 2: We are thrilled that our nomination brings focus to Powerhouse, who are creating the buildings of the future – including a new building standard that links building life cycle emissions to the Paris Agreement 1.5° goals. We believe deeply in the power of our customers. Without them, we're just scientists and engineers, designers and dreamers. It's our honour to provide advanced solar technology that gives our customers everywhere the power the make a positive impact on the world.


What is special about your innovation?

Alpha: Our storage solution for micro networks and VPPs is characterized by a particularly efficient, flexible and future-proof energy supply. Thanks to the standardized, but flexibly modularized design, individual houses up to entire villages can easily be supplied with electricity. The hybrid technology and numerous network integration options allow versatile application options. In rural areas in particular, it is often necessary to decide whether to set up a micro grid or to connect the region to the public power grid immediately or later. Our systems work both independently of the network and also connected to the network and can even be used as a decentralized backup for network stability even when the power network is expanded later. You no longer have to make a decision and can invest directly in a cost-efficient future-proof energy supply.
Phaesun: We have taken the advantages of off-grid photovoltaics and combined them with the most efficient desalination technology, electrodialysis. It is low-maintenance and no chemicals are needed for cleaning. This modern technology fits into the traditional way of life of the villagers in Somaliland.
SENEC: The Onslow Renewable Energy Project is an integral part of Australia's largest distributed energy resource (DER) microgrid, and as such has the potential to provide a blueprint for the sustainable electrification of remote areas around the globe. It will show how microgrids can run reliably based on a large amount of solar power. Thus, it can be part of the solution to the problem how to create wealth and facilitate growth in a sustainable manner without repeating the mistakes made in the industrialized world that have brought about clomate change and other major problems.
SMA: It shows that the 100% renewable supply is possible. The technology is ready and can support the grid and increase grid resiliency.
SWM: So far, combining a regional power product and citizen participation is unique in Germany. It is a solution for everyone: Even without their own solar system people can take an active role in climate protection. Only in cooperation will SWM, citizens and property owners accomplish energy transition.
Sunpower Project 1: As a non-profit, humanitarian organization, Water Mission is dedicated to supplying safe water in developing countries and disaster relief areas around the world. In many cases their services are needed at a moment's notice—and being able to rely on solar technology that can be deployed just about anywhere in the world is critical. The shingled cell design of SunPower Performance panels is engineered with materials innovations that range from proprietary encapsulants to conductive adhesives developed for aerospace that protect cells and minimize power loss from exposure to harsh environments—including arid deserts, wet and humid rain forests, and windy coastlines. The ability for SunPower Performance panels to thrive in a range of conditions gives Water Mission the confidence to integrate the technology into long-term pumping and purification systems around the globe.
Sunpower Project 2: Powerhouse Brattørkaia in Trondheim, Norway is changing the idea of what an office can be, producing more solar power than it can use – and sharing the excess with nearby buildings, electric buses, cars and even a harbor ferry system through a local microgrid.
What makes it special? A vision of a sustainable, zero-carbon world, and the teamwork of a collaborative dedicated to a common vision. Entra, an environmental leader in the real estate industry, owns and manages the property, while the international architecture firm Snohetta designed the building. Global green builder Skanska performed general contracting services. Solcellespesialisten was the solar designer and installer. Solcellespesialisten is Norway's total supplier of photovoltaic systems, established in 2005. SunPower Corporation supplied its premium, high-efficiency solar panels with leading sustainability certifications.


What future innovations does the renewable energy industry need?

Alpha: The industry is making great efforts to store renewable energy in a way that is as sustainable and environmentally friendly as possible. Battery research in particular is fundamental here and must continue to research for even more environmentally friendly materials. In addition, we need better network integration of decentralized storage for VPPs to ensure a stable, sustainable energy supply.
Phaesun: We focus on practical, application-oriented off-grid solutions. Especially in regions with weak infrastructure, without a functioning power grid, innovative products can lead to great leaps in development. Intelligent solutions in the field of mobile telecommunications, cooling devices and water supply are just a few examples.
SENEC: It´s all about building an energy system based on decentralized power generation. The technologies are there, what we need is the intelligent interconnection based on digitalizing the processes. Power can be generated basically anywhere, we have to use this for a sustainable energy system.
SMA: Renewable energy shall take care of the full supply of the loads. Energy storage, advanced control techniques are needed to make that possible. Technology and regulations shall move quickly hand in hand to make this possible.
SWM: The industry needs further business models to facilitate renewable energy projects on existing spaces in urban surroundings. People have to be inspired and to be thrilled by these business models. This way, they create more acceptance, and finally help to enable the energy transition to succeed.
Sunpower Project 1: We really want to see the industry embrace more energy pioneers, like Water Mission, that are taking the technology and creating innovative solutions that improve people's lives. From electric generation, to transportation, to agriculture and so much more, there's potential to improve just about every aspect of our daily lives and that's what motivates us to get out of bed each morning.
Sunpower Project 2: We encourage the industry to do more to embrace solar pioneers: visionary architects, explorers and entrepreneurs who push the boundaries of science to accelerate change. From the edge of outer space to rooftops below, solar pioneers show the world what can be. We salute the resolve and optimism of teams like Powerhouse and Solcellespesialisten and are glad to join them in accelerating change.


Please complete this sentence: "Renewable energy means to me / us ...

Alpha: ...a CO2 neutral energy supply for all people worldwide. Energy is part of the basic supply and must be available to everyone in order to offer equivalent living conditions on all continents and regions."
Phaesun: ...solutions for energy independence"
SENEC: …technology made for a livable future. Using the sun and the wind for generating power – as obvious as it is ingenious."
SMA: ...sustainable and stable energy supply."
SWM: ...the chance to create a sustainable world for future generations. M-Solar Sonnenbausteine won´t change the global climate crisis, but it will improve the ecological footprint of my hometown."
Sunpower Project 1: ...a brighter future for everyone. 5 million people around the world are living healthier lives today because of the work Water Mission has been doing to provide clean, safe water to their communities."
Sunpower Project 2: "To us, renewable energy means giving people everywhere the power to make a positive impact on our world. Together, with Powerhouse, we are powering positive change."