Market Trends
The share of European companies that use renewable energy has increased dramatically in recent years. Between January and November 2020 alone, many companies signed multi-year power purchase agreements covering a supply of more than 3 gigawatts in total. This new record was achieved despite the repercussions of the Covid-19 pandemic.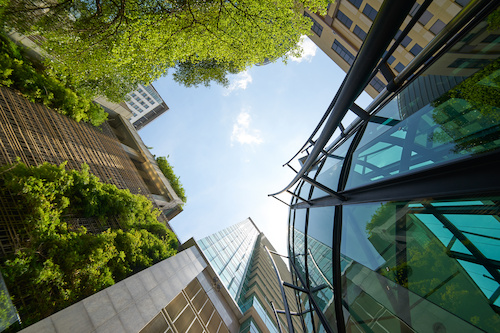 The industry association SolarPower Europe expects more and more companies to capitalize on the opportunities opened up by self-generated power from renewable sources – whether to supply their business with cost-effective and environmentally friendly electricity or to make their production processes climate-neutral. This corporate sourcing helps companies reduce their carbon footprint.
Sector coupling creates a wide range of possibilities for companies that require electricity, heating and mobility. For example, they can use biogas-powered combined heat and power plants to efficiently generate electrical and heating energy, utilize waste heat from production facilities or employ solar power generated on their own rooftop to power electric devices as well as to heat water and charge electric vehicles.
The global RE100 Initiative is proof that such activities are not just individual cases. This initiative brings together the most influential brands in the world which have committed to purchasing or generating 100 percent of the energy they use from renewable sources by 2050, or even much sooner. More than 280 major companies have joined the initiative, including the software company Adobe, the German car and motorcycle manufacturer BMW, the Danish Carlsberg brewery and the large British-Asian bank HSBC. They are already using more than 315 terawatt-hours of renewable power per year, which is more than all of the power consumed in the United Kingdom[HN1] of Great Britain and Northern Ireland in 2019.
EM-Power Europe showcases opportunities and potential for climate-neutral companies. It presents examples of industrial sector coupling and exhibits products that can help companies transition their production processes to renewable energy. The EM-Power Forum includes presentations on how to become a climate-neutral company and provides information about the procurement of electricity from renewable sources. EM-Power Europe, will take place as part of The smarter E Europe at Messe München from May 11 to 13, 2022.