Industry News –Tuesday, November 03, 2020
Expert in agricultural robotics solutions Naïo Technologies and VARTA, leader in innovation and key battery technology, have announced a collaboration to create autonomous transportable charging stations for robots. The companies plan to present the first prototype at the FIRA 2020, International Forum of Agricultural Robotics, which will be held from December 8 to 10, 2020 on a digital platform.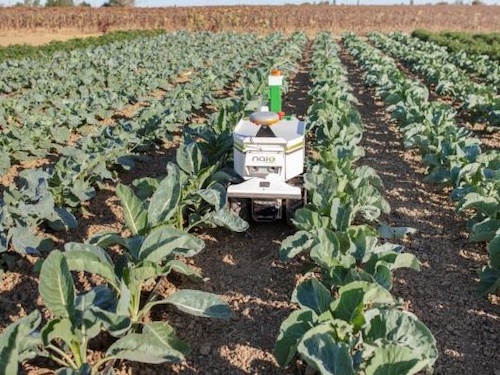 Both companies share the goal to provide farmers with a robot they can use for 24 hours with minimal user interaction during operation and without worrying about power supply. The plan is to develop a remote charging station that does not need connection to the energy grid due to wireless solar or regenerative solutions, and robots that will navigate to their charging stations themselves when they run out of battery.
Naïo Technologies and VARTA have launched two proofs of concept, which include a world first for agricultural robotics: solar field charging stations.
Steve Saunders, Key Account Manager UK & France at VARTA, underlines: "Bringing our expertise and experience to agrobots means that Naïo Technologies as a market leader can focus on their core strength: making the combination of robotics and farming a full success. VARTA will enable the robots to work more efficiently, as our power management solution will make charging faster, more flexible and much easier, while our advanced battery technology will allow for higher performance."
Gaëtan Severac, co-founder of Naïo Technologies, said: "Thanks to our historical background in the agricultural robotics environment, we can easily exchange with VARTA about the existing challenges from a user point of view. As for all our robots, our priority is to offer to the end users, the farmers, an easy solution with the fewest possible constraints for their daily activities. Thanks to VARTA's renowned expertise, we are really excited to continue moving forward in this direction."

Source: VARTA AG
Image: Naïo Technologies
The ees International Magazine is specialized on the future-oriented market of electrical energy storage systems, not only from a technological-, but also a financial and application-oriented point-of-view. In cooperation with ees Global, the ees International Magazine informs the energy industry about current progress and the latest market innovations.