Press Release – June 24, 2021
According to a recent study by EUPD Research, two-thirds of private households name home charging station as an important prerequisite for the purchase of an electric car. Energy suppliers won over just 42% of end consumers with their charging station offerings. Presented results are part of this year's Energiewende Award for energy suppliers.
Bonn. Electric cars continue to be popular among the German people, which can be seen in continuously increasing registrations numbers. While in May the share of new electric car registrations amounted to 11.6 percent[1], a share of 20 percent can realistically be assumed until the end of the year. The significant increase of electric vehicles on German roads brings the issue of charging infrastructure more and more to the fore.
In the context of this year's Energiewende Awards, Bonn-based market and economic research firm EUPD Research conducted a survey among 500 households in Germany. The study reveals the high importance of a charging infrastructure when it comes to purchasing an electric car. The priority for future e-car drivers is clearly on a private charging station. Almost two-thirds of the respondents state that a private charging station is "very important" or "rather important" with respect to owning an electric car. The availability of a public charging station close to one's place of residence is mostly relevant for about half of the survey participants.
"The private households' focus on their own charging station for an electric car is not surprising. Access to public charging stations can be rather challenging at times and unpredictable with respect to continuously increasing charging costs. On the contrary, electricity cost for residential customers is transparent and relatively cheap. Additionally, end consumers have a choice what kind of electricity is being used – ideally solar electricity from their own roof, comments Dr. Martin Ammon, Managing Partner of EUPD Research.
Traditional energy suppliers such as utilities play an important role for end consumers with respect to Energiewende. Moreover, energy suppliers have access to multiple ways to position themselves with new products and services in this area. How well energy suppliers manage this transition process or whether end consumers perceive their offerings, show the study results on the issue of electric mobility. 42 percent of surveyed households are satisfied with the wallboxes and charging stations offered to charge electric cars at home. This new topic is supported by a number of support programs and information offers, which also result in 40 and 38 percent satisfaction rates among survey respondents. Specific charging tariffs for home or mobile charging lead to similar satisfaction levels of 39 and 35 percent.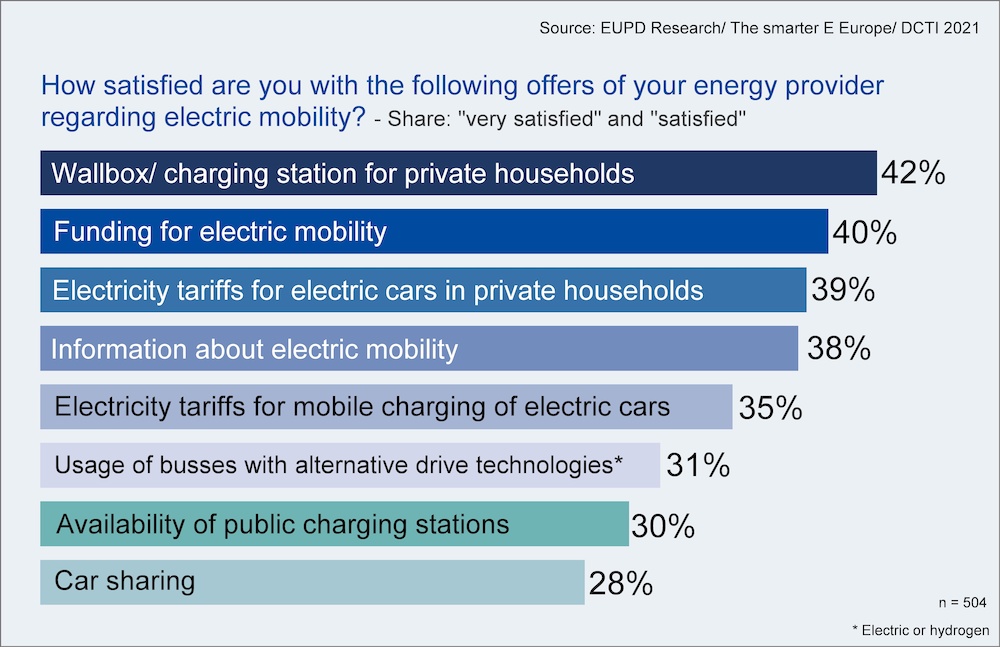 Charging stations products for electric vehicles is by no means limited to energy suppliers. This strong growth market is composed of many new market players, including specialized wholesalers, automotive suppliers up to conventional retailers.
The trade show "Power2Drive Europe" as a part of "The smarter E Europe" offers a comprehensive overview of charging stations suppliers, which was compiled in cooperation with cosmix, a platform for charging infrastructure. The "Market Overview Charging Systems" can be accessed at no cost here: https://www.powertodrive.de/publications/market-overview-charging-systems?lang=en
The most innovative energy providers will be honored with the Energiewende Award at the innovation platform "The smarter E Europe", taking place for the 5th time on October 7, 2021. The Award is addressed to highly engaged energy suppliers, who promote and accelerate the Energiewende (Energy Transition) in the DACH region. The project initiators are the DCTI Deutsches CleanTech Institute (German CleanTech Institute, The smarter E Europe and EUPD Research. For the third time, this year's Energiewende Award is being supported by our partner Vaillant.
Further information about the Energiewende Award can be found at https://www.energiewende-award.de. In case of questions, please contact Saif Islam, at +49 (0) 228 97143-20 or islam[at]energiewende-award.de.
1 https://www.kba.de/DE/Presse/Pressemitteilungen/2021/Fahrzeugzulassungen/pm25_2021_n_05_21_pm_komplett.html?nn=3033666