EM-Power Europe Exhibition Newspaper Issue 01 2020
Last year, Germany lost a record amount of almost 6.5 billion kWh of electricity that could have been generated from renewable sources of energy by plants whose activities had to be capped to avoid overloading the power grid. The total cost for the grid and system safety precautions amounted to 1.2 billion euros.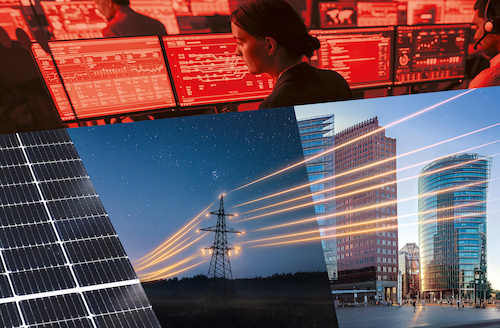 The share of volatile electricity continues to grow due to the new deployment of photovoltaic installations and wind power sites. How renewable energies can be better integrated into our distribution grids is therefore one of the most important questions of the energy transition. Many solutions are based on intelligently connecting the energy infrastructure. Smart grids enable communication between decentralized energy sources, storage systems and prosumers. By balancing out the supply and demand, they help to utilize power grids to their full capacity.
Digitalization of the energy supply is therefore a major growth market. According to figures from the International Energy Agency, the global investments in smart meters alone – the centerpiece of a smart grid – have almost doubled, increasing from 11 billion US dollars in 2014 to 21 billion US dollars last year. Alongside the urgent need to make a success of the energy transition, digitalization also brings new prospects and areas of business for the energy industry. In the Stadtwerkestudie 2020, a study of municipal utilities, over 79% of the surveyed municipal utilities named digitalization as the main factor driving the maximization of their potential for efficiency and growth.
According to the study published by the German Association of Energy and Water Industries (BDEW) together with Ernst & Young, the utility companies ranked smart metering (81%) and cybersecurity (75%) as particularly relevant digital technologies. As the international exhibition for energy management and integrated energy solutions, EM-Power Europe plays an important role in this dynamic market and now boasts an expanded portfolio. Smart grids and the integration of renewable energies, grid infrastructure and system services are now also part of the picture. Decentralized and renewable energy supply, smart building automation, energy management systems within microgrids, districts and buildings as well as commercial and industrial energy services remain an important part of the exhibition. As part of The smarter E, EM-Power Europe has established itself as the interface between a sustainable energy supply and the efficient distribution and use of electricity and heat.