Please note: The information below is subject to the Corona Ordinances in effect. If these measures change, this page will be updated accordingly.
Health and Safety Concept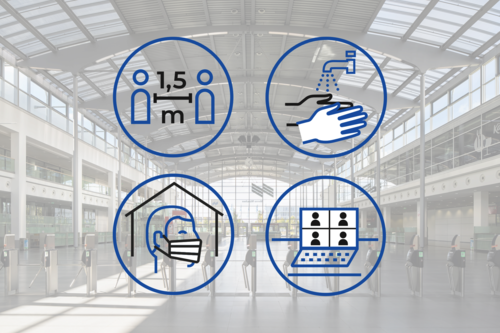 We ask you to behave responsibly and mindfully on site and to implement the following recommendations on your own responsibility:
The wearing of a FFP2 mask or a medical mask on the exhibition grounds (inside).
Keeping the minimum distance of 1.5 metres.
Disinfection of essential contact surfaces at the booth.
Washing and disinfecting hands.
Observe the sneezing and coughing etiquette.
Avoid handshaking and hugging.
If you show signs of illness that could indicate infection with SARS-CoV-2, please refrain from attending The smarter E Europe 2022.
All statements currently made are subject to change. Should the German Federal Government or the Bavarian State Government tighten the measures to combat the Corona pandemic again, these will be implemented for The smarter E Europe.
All current information on developments in connection with the Coronavirus, as well as leaflets and FAQs for various target groups can be found on the website of Messe München.
If you have any questions, please contact the Technical Exhibitor Service (TAS 2) at Messe München: Tel. +49 (0) 89 949211-35.
Access to the event site
To ensure full traceability of all participants during setup, the event and dismantling, all persons entering the premises must register.
The set-up and dismantling ticket can be booked in the ticket shop.
According to the current SARS Cov-2 regulation in effect (as of April 3, 2022), VCR proof (vaccinated, checked, recovered) is no longer required.
Testing
If desired, you can take a test at one of the many centers near your hotel, upon arrival at Munich Airport, or at one of the test centers in downtown Munich: Coronavirus rapid test in Munich - all sites and information.
A list of pharmacies offering rapid tests can be found here.
Contact-tracing Procedure
According to the current SARS Cov-2 regulation (as of 8/25/22), no contact tracing is required.
We look forward to seeing you again at The smarter E Europe 2023!
If you have any questions, please feel free to contact us:
+49 761 3881-3700